In Culture Celebration Week 2023, all the classes around the school were involved fun activities about multiple cultures and countries. In each classroom, the children have been taught about a specific country although classes have swapped round to learn about other countries too. Throughout the week, all the children have learned a significant amount about cultures other than their own. What a week!
By Flo
Bollywood and drumming workshops

---

Culture week in Baobab Class
This week we have learned lots about Italy. The first thing we learned was where Italy is located on the map. It is in the Mediterranean and has a very unique shape, it is a boot! We have also learned about the capital city and the what the flag looks like. The capital of Italy is Rome which is one of the famous cities in the world. To know what the flag looks like, we collaged it using glue to stick tissue paper on to it.
Our friend Noah, very kindly showed us some pictures of Pompei. Pompei is a very lovely city, some of the pictures he showed us were of massive lemons that his friends were growing in their garden. We loved them! The exciting thing was learning some Italian words, such as 'ciao' which means 'hello'.
I think the best thing that happened was learning about a different country that is not my nationality. This week has been lots of fun!
By Ella
---

Lunchtime clubs
For Culture Week, I made a PowerPoint all about Romanian Culture. It had information about the geography, location and flag of Romania, also featuring facts about well-known Romanians and things Romania is famous for – there was even a quiz at the end. I showed this PowerPoint to several KS2 students.
Eduard
During culture week there were many lunchtime clubs but the one of the most popular was the salsa club. A student from the school (Adela) and her sister ran a salsa lesson where we learned how to salsa dance. We were taught different moves and their names. It was hard to pick up the dance at first, but after we practiced a couple of times it got easier to remember. Once we completed the whole dance Adela and her sister performed an amazing salsa performance including lifts and different moves that we had learned. Everybody seemed to have lots of fun and the dance looked fantastic.
Amelie
---
Culture week in Poplar Class:
We have been looking at the Republic of Congo. We have made frogs out of origami, which you make jump by pressing the back. We also learned about the four layers of the rainforest- the forest floor, the understory layer, the canopy layer and the emergent layer. The forest floor has snakes, forest elephants, gorillas and okapi. The understory layer has jaguars, red eyed frogs and a lot of insects. In the canopy layer you will find more snakes, frogs and toucans. In the emergent layer you find animals like butterflies, monkeys, eagles and bats.
By Rose
---
Culture week in Sumac Class:
Today in Maple Class, we were learning about Jamaican culture. One of the things we did, was learn how to do tie-dye. This is how you make it: first; you tie three elastic bands around the muslin cloth, secondly, you put food dye on the cloth; make sure there are no white parts showing. Finally put your cloth in a bag and leave it to dry for a few days and try not to touch it. I liked going to a different class and learning about a different culture. Me and my class have had so much fun this week.
By: Zayne
---
Cooking in Oak and Elm:
During culture week, both Year 6 classes cooked traditional food from their class's country. Oak did a range of food from Turkey and Elm cooked food from Greece. The foods varied from more simple things like salads and dips to more complicated things like cakes and pastries. We made melotopia honey cake (a traditional honey cake made on the Greek island of Sifnos) in Elm and in Oak we made borek (a filo pastry normally layered with yoghurt, feta, mozzarella and spinach).
By Maya
---
Ash Class - Poland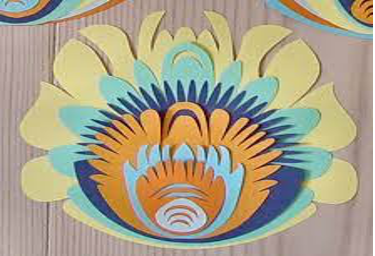 We learnt about Poland in Ash this Culture Week. Poland is a country in Central Europe, with a population of ~38M people. We made Polish cake, poppies (national flower of Poland), and did Polish paper cutting.
We learned about Wycinanki. Wycinanki (pronounced Vee-Chee-Non-Kee) is the polish word for cutouts. (Learn how to do this here https://culture.pl/en/article/folk-art-at-home-a-diy-guide-to-polish-paper-cut-outs) Wycinanki was originally used by Polish peasants to decorate their cottages. Wycinanki is quite hard, but it looks lovely when you finish it. Here's how it looks:
It will take a long time, but in the end it looks wonderful. Planning to visit Poland anytime soon?
Written by Samuel