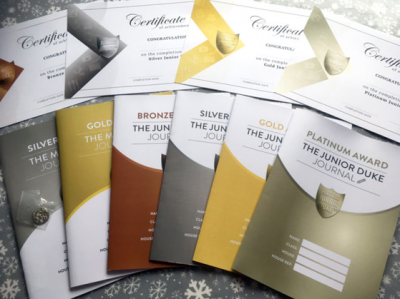 At Churchfields Primary School we have a big focus on inspiring children to challenge themselves and others, while encouraging them to use a range of learning skills to help strengthen their character. From January 2022, Churchfields has been offering the Micro, Mini and Junior Duke Awards to all of our children.
The Micro, Mini and Junior Duke give children the opportunity to participate in a variety of new experiences. They teach children that it is good to 'have a go' and challenge them to learn new and varied skills from an early age. By enrolling in the award scheme, children will learn that you may not always succeed first time and that is okay. This helps them to develop the resilience they will need throughout their lives. The Duke Award schemes provide the children with the opportunity to gain a recognised qualification from successfully completing each step of the award.
These Award Schemes have been running in schools since 2007 and have helped thousands of children, initially aged 6 to 12 to develop their abilities and discover new talents and passions. The concept was created by Dawn Waugh, a Scottish Primary School Teacher from Glasgow. When she began teaching in 1994, she felt the children needed to be encouraged to learn to do things on their own and wanted to develop an award scheme to help children to become independent learners.
Having loved earning badges as a Brownie then later as a Guide and completing her Gold Duke of Edinburgh's Award, Dawn started thinking about simple life skills children should be able to do and began to make up lists. By the end of 2007, she had 40 challenges and created four progressive booklets. Each year she has adapted and expanded the booklets.
Since its inception, the Award has developed further to include a Mini Duke Award for Years 1 and 2. And, for the first year, is being offered to Reception children in the form of the Micro Duke award. Life skills at this age include learning the safety rules of an open campfire and toasting marshmallows, washing a car, climbing a hill carrying their own rucksack, polishing their shoes, making a sandwich, reading literature, playing Monopoly or chess and much more. We feel that this will work well with our existing focus on Excellent Learner Behaviours and are proud to be one of the first schools in London to join this journey.
There are seven levels: Micro Duke, Silver Mini Duke, Gold Mini Duke, Bronze Junior Duke, Silver, Gold and Platinum. Each of these levels has ten challenges and, in order to complete a level, the children need to finish seven of these successfully. These include skills such as First Aid, ICT, Languages, Art, Drama, Music, Sport and other life skills such as cookery and puncture repair. The children will be given many of the necessary skills in school, but most of the challenges will require some time and effort outside school or at home.
On entering the Award scheme, each child will receive a Micro, Mini or Junior Duke booklet with all of the challenges explained fully. They then chooses seven out of the ten challenges in each of the booklets. There are many spaces for you to glue photographs of your child completing the challenges. If there are any particularly great photos, please would you send them to Forestschool@churchfields.q1e.org.uk for inclusion on the school's website. Some may be forwarded to the Junior Duke website (we will ask your permission first).
The Micro and Mini Duke is mostly assessed at home by parents and it asks for more photographic evidence rather than written assessments. To support the tasks, there is a Parental comment box on each page. The Junior Duke scheme will be mainly assessed by Teachers and TAs, during the school day (on a designated day and time to suit each class), when a child completes a task.
On the completion of a level, a certificate and a badge will be awarded at a Star assembly. All children who complete the Platinum level will receive their badge at the assembly as soon as they have completed their Award, but their certificates will be awarded at a special lunchtime garden party ceremony near the end of the academic year and these will be given out by the Churchfields Ambassador for the Scheme.
If a level remains incomplete by the end of the academic year, your child may carry it over into the next year at Churchfields. Unfortunately, the scheme does not run in Secondary Schools, so the Platinum Award needs to finish by the end of June
A list of all the challenges for each stage of the scheme can be viewed here or look at the Capable Kids Junior Duke website
Certificates Awarded
Charlie is the first to complete a Micro/Mini/Junior Duke award.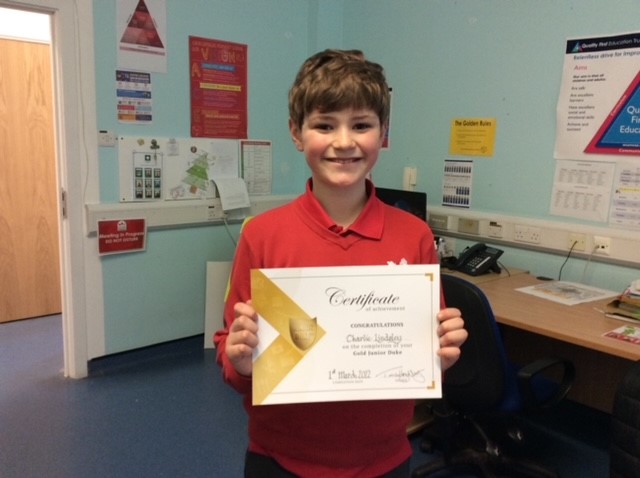 He has been awarded a Gold Junior Duke.
Also, Maddie – Magnolia has completed her Silver Mini Duke award.
And Erin – Baobab has completed her Bronze Junior Duke award.
Well done to them and all the others who are nearly there!